New York City, known for its towering skyscrapers and bustling streets, also offers a serene side through its beautifully landscaped parks. Amid the urban jungle, these green oases provide a peaceful retreat for both locals and visitors. In this guide, we'll explore the top 5 parks in New York City where you can relax, unwind, and escape the city's hustle and bustle.
Central Park
Central Park stands as a legendary urban park in the heart of Manhattan, offering an expansive escape from the city's frenetic pace. Its 843 acres encompass meadows, woodlands, and serene lakes. Visitors can take leisurely strolls, have a picnic, or rent a rowboat on the iconic Central Park Lake. The park also boasts famous landmarks like Bethesda Terrace, Strawberry Fields, and the Central Park Zoo. For a tranquil experience, consider exploring the northern areas of the park, away from the tourist crowds.
Prospect Park
Prospect Park, located in the borough of Brooklyn, is a hidden gem filled with natural beauty. Designed by the same architects as Central Park, it features a 90-acre lake, woodlands, and the stunning Brooklyn Botanic Garden. The Long Meadow offers an ideal spot for relaxation, picnics, or a game of frisbee. Prospect Park also hosts a range of events and concerts throughout the year, making it a cultural hub as well.
High Line Park
High Line Park is a unique elevated park built on an old railway track that winds its way through the Chelsea neighborhood. This park offers a tranquil experience above the city's streets. Stroll through beautifully landscaped gardens, encounter captivating art installations, and enjoy panoramic views of the city. High Line Park is a testament to urban rejuvenation and provides a serene respite amidst the hustle and bustle of Manhattan.
Bryant Park
Bryant Park, tucked away in Midtown Manhattan, is an oasis of greenery surrounded by towering skyscrapers. Known for its lush lawn and vibrant gardens, the park offers a peaceful place to sit, read, or simply people-watch. It's also home to the New York Public Library's iconic Stephen A. Schwarzman Building. Bryant Park hosts free outdoor movies, yoga classes, and cultural events, making it a hub of relaxation and entertainment in the heart of the city.
The Battery Park
The Battery Park, located at the southern tip of Manhattan, offers a mix of history and natural beauty. Stroll along the waterfront promenade with stunning views of the Statue of Liberty and Ellis Island. Explore historic sites like Castle Clinton National Monument and the SeaGlass Carousel. The park is a peaceful spot to relax, watch the ferries pass by, or simply take in the refreshing sea breeze.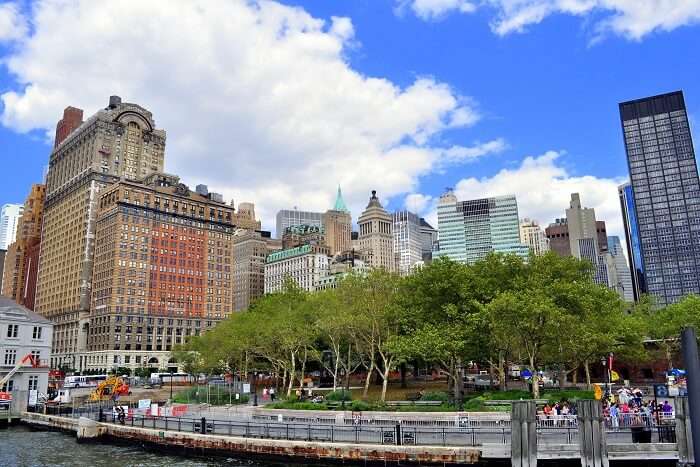 Conclusion
New York City's top parks provide a delightful contrast to its concrete canyons. These green havens offer visitors and locals alike an opportunity to relax, rejuvenate, and connect with nature. Whether you're looking for a tranquil escape or a leisurely stroll, these urban parks have something for everyone. So, take a break from the city's hustle and discover the serenity within these green gems.
FAQs
What's the best time to visit Central Park for a quiet experience?
Are there guided tours available in Prospect Park?
Can I bring my dog to High Line Park?
Is Bryant Park open during the winter months?
How can I access The Battery Park from downtown Manhattan?
Are there any special events held in Central Park throughout the year?
Are picnics allowed in Prospect Park, and are there designated areas for them?
What's the best way to get to Bryant Park via public transportation?
Can I take a boat ride at Central Park Lake, and how do I rent a rowboat?
Are there any cultural festivals hosted at The Battery Park?
Welcome to New York, Nice to share about New York Tourism with you!