New York City, often associated with its bustling streets and towering skyscrapers, might not immediately come to mind as a family-friendly destination. However, this iconic city offers an array of attractions that cater to visitors of all ages, including families. In this article, we'll explore seven family-friendly places in NYC that will make your trip unforgettable.
Central Park: Nature's Playground
Central Park stands as a testament to the city's commitment to green spaces. It's an oasis in the midst of the urban jungle, making it perfect for families seeking a breath of fresh air. The park features various playground areas where children can run, climb, and swing to their hearts' content. Families can also enjoy picnicking by the iconic Central Park Lake, rowing boats, and exploring the Central Park Zoo.
American Museum of Natural History: An Educational Adventure
For families interested in exploration and education, the American Museum of Natural History is a must-visit. This renowned institution is home to an impressive collection of exhibits, including life-sized dinosaur displays that will captivate young imaginations. Interactive displays and hands-on activities make learning about natural history a thrilling adventure for kids of all ages.
Bronx Zoo: A Day with Wildlife
A day at the Bronx Zoo promises an exciting and educational experience for families. With a wide variety of animals from around the world, including lions, tigers, and gorillas, the zoo offers an opportunity for kids to get up close and personal with wildlife. Special exhibits and animal encounters provide an extra layer of excitement while highlighting the importance of conservation efforts.
Children's Museum of Manhattan: Learning Through Play
The Children's Museum of Manhattan is a place where learning meets play. This interactive museum offers a wide range of hands-on exhibits designed to stimulate young minds. Children can explore themed exhibits that cover topics such as science, art, and culture. The museum frequently hosts special events and workshops to engage kids in creative and educational activities.
Coney Island: Classic Seaside Fun
Coney Island has been a beloved destination for generations of families. This iconic seaside amusement area offers classic fun for kids and adults alike. Luna Park is home to thrilling rides and carnival games that will have the whole family screaming with joy. Stroll along the historic boardwalk, sample some Nathan's Famous hot dogs, and dip your toes in the Atlantic Ocean.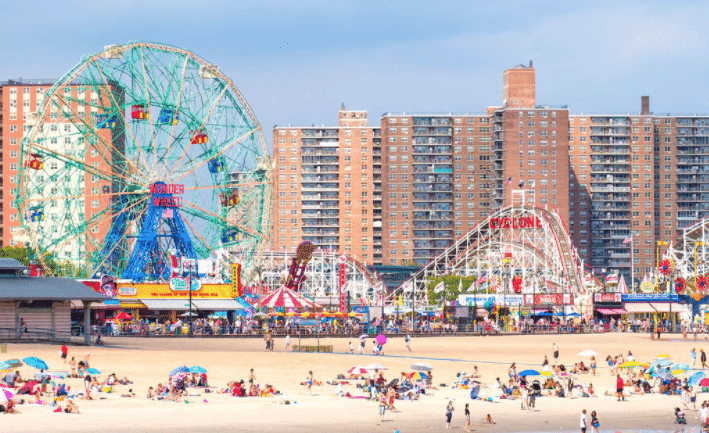 Intrepid Sea, Air & Space Museum: A Journey Through History
For families interested in history and technology, the Intrepid Sea, Air & Space Museum is an exciting destination. Housed on the aircraft carrier USS Intrepid, this museum offers a unique opportunity to explore historic aircraft, submarines, and even a space shuttle. Kids can get an up-close look at the machinery that shaped our world, making history come alive.
Conclusion
New York City isn't just for adults; it's a city that welcomes families with open arms. These family-friendly attractions offer a mix of education, entertainment, and outdoor fun. Whether your kids are fascinated by dinosaurs, wildlife, or simply love to play, there's something in the Big Apple for everyone in the family.
FAQs
How can I purchase tickets for Central Park attractions?
Are there guided tours available at the American Museum of Natural History?
What are the Bronx Zoo's conservation efforts?
Is there a recommended age range for visiting the Children's Museum of Manhattan?
What are the must-try rides at Luna Park in Coney Island?
Can visitors board the historic aircraft at the Intrepid Sea, Air & Space Museum?
Are there any discounts available for families at these attractions?
What are the operating hours for these family-friendly places in NYC?
Are there dining options available at these attractions?
How can I make the most of my family trip to New York City?
Welcome to New York, Nice to share about New York Tourism with you!